Raw Pack Recipes: How best to serve them

Alternative, Green Label and Classic: three different wet cat food lines prepared using an innovative "raw pack" cooking method. Let's find out more about its characteristics, differences and the best way to serve raw pack meals to our cat! The "raw pack" cooking methodAll of our Alternative, Green Label and Classic Raw Pack recipes are prepared with this new cooking method: HFC* ingredients are inserted in to the pouch raw, the pouch is then sealed and bain-marie cooked.This "in pouch" cooking method preserves flavours and nutrients naturally present in the meat or fish used in the recipe, without the addition of any broth.The selection of premium HFC* cuts – originally fit for human consumption – ensures the presence of high quality proteins and micronutrients found in meat and fish muscles, granting a high nutritional profile, ideal to satisfy our pet's physiological needs. How does a "raw pack-cooked" product change? The "in pouch" bain-marie cooking process ensures a pure product: only select ingredients (meat or fish and rice), with nothing else added, not even water. While cooking, the meat and fish release their juice and become more compact, separating from their natural broth.Just three simple steps are necessary to serve the product ideally:
Squeeze the pack
Mash the contents (by manipulating the pouch)
Pour and serve!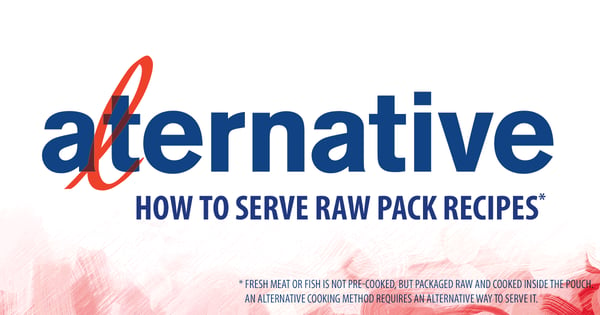 Alternative, Green Label and Classic: Raw Pack recipesAlmo Nature offers three "raw pack" lines to satisfy every cat's needs:

– Alternative is the number one choice with ten different recipes containing up to 99.5% fresh, HFC* meat or fish

– Green Label and Classic Raw Pack lines offer eight recipes comprising 75% fresh HFC* meat or fish and 1% rice.

Raw Pack recipes are ideal to support a cat's well-being because they improve hydration and support urinary functionality, and thanks the high quality proteins and essential amino acids contained within, they provide an ideal nutritional profile for all cats – strict carnivores. * HFC: cat food made with natural ingredients originally ­ fit for human consumption