All You Need to Know About Our New Segmentation
With the recent addition of new products and future new products down the pipeline, we've decided to reorganize our product segmentation in a way that we feel better represents our different wet cat and dog food product lines.




Here are the highlights of the new changes:


✔️ The Daily and Daily Complete product lines move from the Daily segment to the HQS (High Quality Sourced) segment

✔️ The old Daily segment gets a new description and will comprise of one of our newest products lines, Daily Made in Italy



Below is a handy chart that provides more details on the new changes (click to enlarge)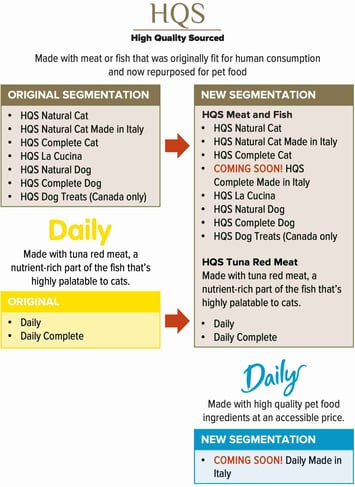 FAQs


We already know you may have some questions... and we have answers:




Are any of the recipes changing?


No, all of the recipes will remain exactly the same. The segmentation changes are only for organizational purpose.




Why are Daily and Daily Complete moving to the HQS segment?


The fact is, Daily and Daily Complete have always been made with ingredients that meet the HQS standards: meat or fish that was originally fit for human consumption and now repurposed for pet food.

However, we originally opted to put these two product lines in a separate segment, Daily, because we wanted to differentiate them from the other HQS products as they are made with tuna red meat.

In an effort to better organize the segments, we have decided to put all of our products made with HQS meat or fish into the HQS segment.




How is the new Daily segment different from the old Daily segment?


Product lines in the new Daily segment (currently just the new Daily Made in Italy product line) are NOT made with HQS ingredients. They are made from high quality pet food ingredients including byproducts. Recipes containing byproducts are still very nutritious and allow us to offer quality food for cats and dogs at a price that is more widely affordable.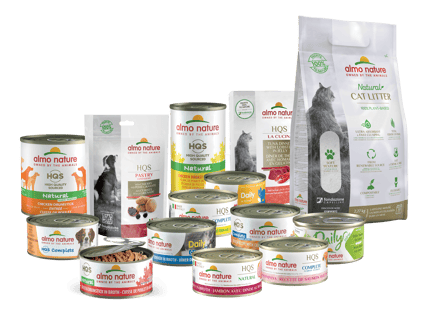 Have any questions? Drop them in a the comments below or click here to send us a message.