Five Lessons on Dog Adoption from a Shelter Worker
Most people have a lot of questions when they're considering adopting a dog. Topics range from responsible ownership to feeding schedules to training to grooming. One thing is for sure: Being certain that you can provide a dog with a loving, lifetime home is the first thing to consider when making your decision. Once you know that you can fulfill this requirement, we recommend creating a list of questions and visiting a few shelters before making a final decision. To help you along, we spoke to a shelter worker and found out what questions to ask and what to expect.
Don't judge a book by its cover
It's relatively easy to walk into a dog rescue shelter or dog adoption charity, peer through the doors and choose a dog based purely on the first bright eyes that fixate on you. But this is not the best way to choose your companion for the next 10-15 years. Even though you'll always be drawn by the appearance of a certain breed or size (who isn't?), it's far better to choose a dog with a temperament that suits your own personality and lifestyle. Take a husky for instance... they look fluffy and cute but they need their human companion to be the leader of the pack.Ask shelter workers about the temperaments of the various dogs that are up for adoption. All shelter or adoption dogs will have undergone thorough testing, so employees will be able to give you all the info you need:
Will this dog suit an active lifestyle?
How much space does this dog require?
How much exercise does the dog require?
How is the dog's temperament around new people? Around children?
Ensure the important questions are asked by the shelter
Before you adopt a dog, you should be home-checked and assessed. Questions should include topics such as your lifestyle, your home, other pets, kids etc. Dogs will be matched to you based on this information. Don't see this as an interrogation, it's mainly a formality to ensure the dog of your choice will thrive in your household and vice versa. In this way, shelters can make sure the adopted dog has found a forever home. If you have a cat, for instance, there's no use falling in love with a shelter dog who hates cats. Equally, if you have a child or children who regularly visit the home, you need to look for dogs who are child-friendly.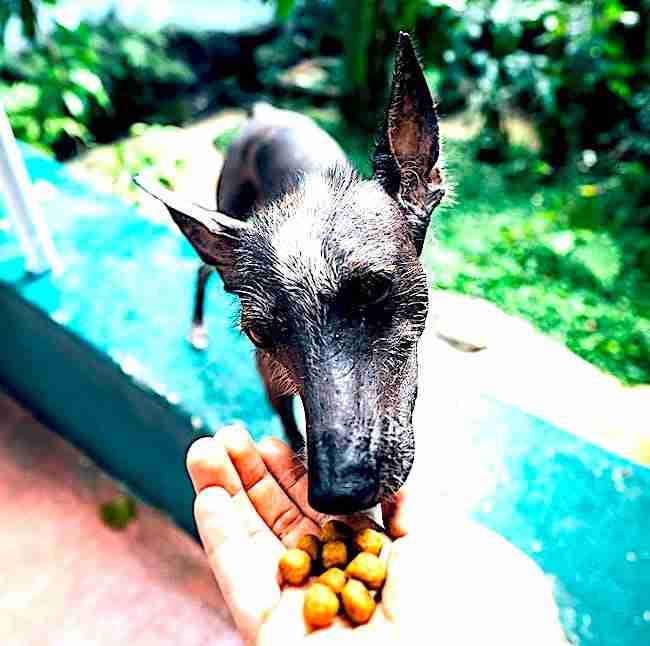 Be open about your experience - or lack thereof
If you have years upon years of experience handling large or powerful dogs, then you may be the saving grace that the shelter is looking for. There are always more complex dogs needing homes too, so if you feel capable and willing to take on more of a challenge, indicate this. Helping a dog work through unwanted or difficult behaviors can be very rewarding. But also, if you aren't able or don't have the knowledge or experience to take on such a challenge, be clear on this with the shelter during your assessment.Not all dogs who end up in shelters have complex issues. Some end up being re-homed due to relationship breakdowns, eviction and lifestyle changes, meaning that their previous owners could no longer provide what they needed.
Consider an older dog
Unfortunately, all dogs of all ages and breeds find themselves in shelters. Sometimes older dogs end up in shelters as their elderly owner has passed and there are no family members or friends willing to take them on. These old dogs can be stable and well-rounded dogs who just need a calm home to live out their last years. These rescues can be a little more emotional as they can have health issues as they age, but it's lovely to think they are spending the time they have left in a home environment.
Visit multiple shelters
While you are searching for an adoptee, visit a number of associations and shelters. Speak with the staff and ask them about the temperament and personality tests they carry out. Staff should be well informed and have a solid understanding of dog behavior. If you do find a dog that suits your lifestyle, you should be encouraged to play with them or take them out for a walk. It's best advised to carry out a number of visits to interact with them before committing to taking them on.You need to be sure that you will be able to bond. This can be a long process, so don't expect to turn up to a shelter and walk away with a dog on the same day! If this is even suggested, walk away. Shelter staff should be just as patient and keen to see how the bond develops before the dog is re-homed.
Conclusion on dog adoption
Adopting a dog can be incredibly rewarding when done responsibly.
You must consider your experience as a handler and what you are able to offer to shelter dogs; whether you can manage more complex issues or not.
Assess your lifestyle and figure out what personality and temperament will suit you best.
Ask shelter staff questions. They should have all the information you need to decide whether a dog is suitable for your home.
Above all, be patient with the process. Don't just walk into a shelter one day and choose the dog who looks up at you with sad eyes.
Take a look at our Companion Animal For Life project to find out more about responsible adoption and why it's important. Featured image and text by John Woods (edited for our blog).