Adottare un cane 'imperfetto': la storia di Marnie the Dog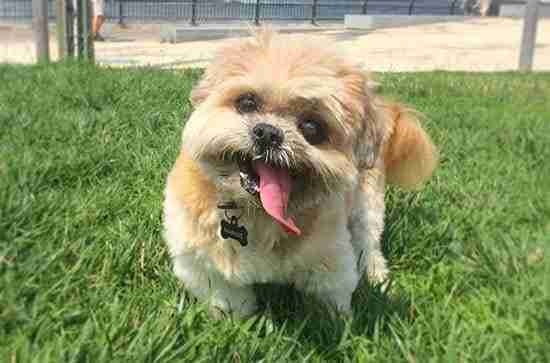 Soffici fagottini che zampettano tra ceste piene di cuscini, graziosi esserini dal pedigree blasonato pronti a leccarci per carpire il nostro affetto: questa è l'immagine zuccherosa e plastificata dell'adozione di un cane emersa dai soliti luoghi comuni proposti dai media. Per capire la storia di Marnie, invece, occorre spazzar via questi stereotipi e pensare all'accoglienza di un animale da tutt'altra prospettiva. Lo status di irresistibile cucciolo, la perfetta salute per affrontare grandi avventure e soprattutto la bellezza non sono stati i fattori determinanti che hanno fatto scattare l'adozione di questo cane, oggi conosciuto in tutto il mondo grazie alla grancassa dei social network. Marnie prima e dopo l'adozioneMa chi è stata Marnie prima di essere una star del web e soprattutto un cane amato dai suoi padroni? Il piccolo Shih Tzu color miele ha di sicuro una decina di anni e tanti acciacchi collezionati prima dell'incontro con i suoi padroni che ne ignorano le pregresse vicende di adozioni-abbandono. Nell'estate del 2012 Marnie è stata rinvenuta per strada in condizioni pietose: denutrita, triste, sporca e maleodorante, con la maggior parte dei denti marci, un occhio pesto e semi chiuso, la lingua a penzoloni e la testa inclinata . Dopo aver trascorso quattro mesi in un rifugio ha trovato casa e nome in onore della musicista Marnie Stern, vera e propria passione della sua padrona Shirley. Restavano da risolvere a questo punto i suoi innumerevoli problemi di salute che un veterinario attento ha saputo scoprire assicurandole una vita più che felice. La cagnetta, infatti, aveva ben 14 denti in decomposizione e doveva la sua postura ciondolante alla sindrome vestibolare, una malattia che colpisce l'equilibrio del cane ma non ne impedisce una vita normale. Nessuna cura, invece, è stata prevista per la sua caratteristica più in vista: la lingua penzoloni. Infatti, come orgogliosamente ribadito dalla sua padrona, Marnie ha la lingua molto lunga e, pur preferendo lasciarla scappar fuori, all'occorrenza la ritira per inumidirla.

Marnie the dog, star del web

Questa storia di non proprio ordinaria generosità ha goduto anche di una notevole copertura da parte dei media mondiali che non si sono lasciati sfuggire le avventure di Shirley e Marnie ampiamente documentate sui social network. La simpatia di questa cagnetta, tutt'altro che bella o scattante, ha conquistato anche parecchi personaggi famosi come Miley Cyrus, Ed Sheeran, James Francogiusto per fare qualche nome. Video simpatici, foto tra l'esilarante ed il commovente non mancano per l'ormai adorata Shih Tzu che domina con buffa inconsapevolezza il web 2.0 canino. Eppure, buonismo a parte, ci si chiede solo quanti aspiranti padroni effettivamente avrebbero accolto un cane 'problematico'.