HFC ingrediënten: Ontdek Alternative!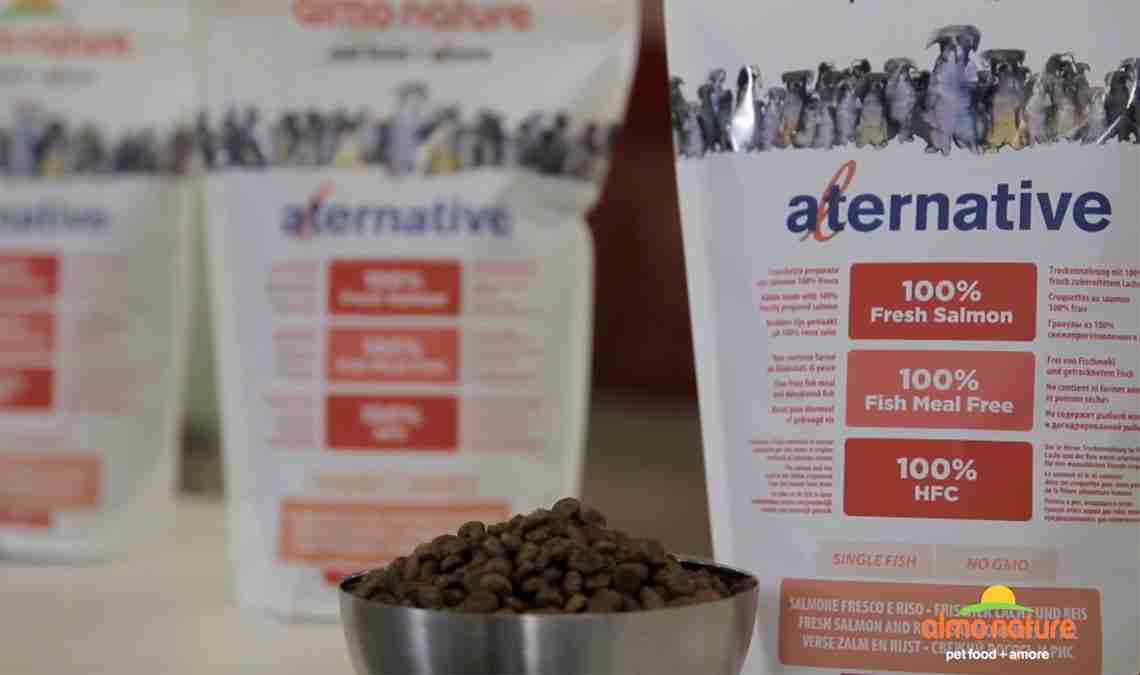 De eigenschappen van Alternative Droogvoer
Alternative is het nieuwe droogvoer voor honden en katten van Almo Nature. De eerste en enige die geen vleesmeel of gedehydrateerd vlees beruikt. Mar enkel vers vlees en verse vees van 100% HFC kwaliteit. HFC is de kwaliteitsstandaard geselecteerd door Almo Nature foor alle ingrediënten van Alternative recepten: alleen vers vlees of verse vis en rijst afkomstig uit de menselijke voedsel keten.De smaak van dit droogvoer is fantastisch en natuurlijk lekker door de hoge kwaliteit van de ingrediënten. Honden en katten die vers natuurlijk voer gewent zijn vinden het heerlijk! Alternative is een compleet en gebalanceerd product, welke aan de voedingsbehoefte van katten en honden kan voldoen bij elke maaltijd.
Alternative droogvoer: hoe het gemaakt wordt
Het vers vlees gebruikt in Alternative droogvoer wordt gekocht in lokale slachthuizen en wordt met zorg verwerkt. Alternative is ontstaan uit de behoefte om voer te hebben wat bereid is thuis in onze eigen keuken.Het is zo'n simpel proces dat we het in een paar regels kunnen uitleggen. Het vlees wordt gemalen en daarna om hygiënische redenen bevroren, in de tijd dat dit gemengd wordt met een ander een ingrediënt wat vaak op onze tafel gevonden wordt, rijst. De rijst, welke ook 100% HFC is, heeft de hoogste verteerbaarheid, bevat geen gluten en zorgt ervoor dat u uw hond en kat elke dag gezond kunt houden.
Na het mixen van al deze ingrediënten wordt het droogvoer onderworpen aan een strikte kwaliteitscontrole, om zo altijd de beste kwaliteit voor de consument te garanderen. Het product wordt daarna verpakt en is klaar om naar diverse verkoop locatie gebracht te worden.

Almo Nature heeft besloten om afbeeldingen van vers vlees (of verse vis) te vermijden om de Alternative verpakkingen.De reden is simpel: veel merken verwarren consumenten met afbeeldingen van vers vlees, waarmee ze suggereren dat er een exclusieve groep ingrediënten wordt gebruikt in hun producten. Almo Nature heeft besloten om niet deze afbeeldingen te gebruiken, maar gewoon het verse vlees als ingrediënt te gebruiken.Het biedt een echt "Alternatief" voor al het andere dierenvoer op de markt!

De innovatie van Alternative
Alternative is een absolute innovatie. Niet alleen omdat alle ingrediënten gecertificeerd zijn als HFC – van origine geschikt voor menselijke consumptie – maar ook omdat Almo Nature – voor de aller eerste keer in de dierenvoer markt – een machine heeft ontworpen (extruder) met de capaciteit om droogvoer te maken van enkel vers vlees of verse vis zonder toevoeging van droge ingrediënten.Het onderzoek en de ontwikkeling hebben zes jaar geduurd, maar dit heeft ervoor gezorgd dat Almo Nature een gebalanceerd droogvoer heeft kunnen maken, van uitzonderlijke kwaliteit en smaak, bereid met enkel vers vlees of verse vis van 100% HFC kwaliteit.Omdat we zijn wat we eten, dit geldt niet alleen voor onszelf maar ook voor onze dieren!