Raw Pack Recepten: Zo serveert u ze

Alternative, Green Label en Classic: drie verschillende katten natvoer lijnen, bereid met de innovatieve "raw pack" kookmethode. Hoe gaat dit in zijn werk, wat is het verschil met andere bereidingsmethode en hoe kunt u dit het beste serveren aan uw kat? Wij leggen het u uit!
De "raw pack" kook methods
Alle Alternative, Green Label en Classic Raw Pack recepten worden bereid doormiddel van een nieuwe kookmethode. HFC* ingrediënten worden rauw verpakt in de pouch, de pouch wordt afgesloten en op au bain-marie wijze gekookt.Deze "in pouch" kook methode behoudt op een natuurlijke manier de smaak en voedingsstoffen van het vlees of de vis, zonder toevoeging van bouillon.Premium HFC* kwaliteit – van origine geschikt voor menselijke consumptie – zorgt voor hoogwaardige proteïne en microvoedingsstoffen, welke afkomstig zijn uit de spieren van het vlees of de vis. Wat een hoog voedingswaardeprofiel geeft. Ideaal om aan de lichamelijke behoefte van onze katten te voldoen.
Wat veranderd een product wat "raw pack" gekookt ist?
De "in pouch" au-bain-marie kookmethode zorgt voor een puur product. Alleen geselecteerde ingrediënten (vlees of vis en rijst) zonder toevoeging, zelfs geen water. Tijdens het koken komt er vocht uit het vlees en de vis, waardoor deze nog compacter wordt en zich los maakt van de kookvocht.Daarom kan een raw pack product niet simpel weg in een voerbak gegoten worden. De kat zal de kookvocht opdrinken en houdt vervolgens een bonk vlees of vis over.Maar een paar simpele handelingen zijn genoeg om het ideale product te serveren:
Knijp in de verpakking
Meng de inhoud
Schenk en serveer!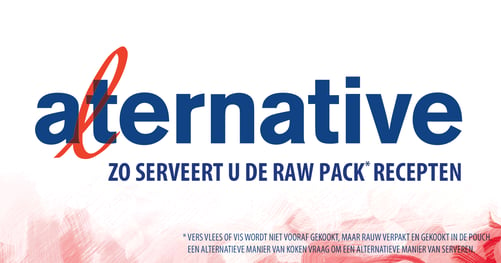 Alternative, Green Label, Classic: Raw Pack Reception
Almo Nature biedt drie verschillende "raw pack" lijnen om aan elke kat haar wensen en behoefte te voldoen:
Alternative is dé keuze met tien verschillende recepten met tot wel 99,5% vers HFC vlees of vis
Green Label en Raw pack bieden 8 recepten met 75% vers HFC vlees of vis en 1% rijst.
Raw pack recepten zijn ideaal voor het welzijn van katten: ze verhogen de vocht inname en ondersteunen de functionaliteit van de urine wegen. Dankzij de hoogwaardige proteïne en essentiële aminozuren zorgen ze voor het perfecte voedingswaarde profiel voor alle katten – strikte carnivoren.. * HFC: kattenvoer bereid met ingrediënten die van origine geschikt zijn voor menselijke consumptie>