Enkele van de meest gestelde vragen beantwoord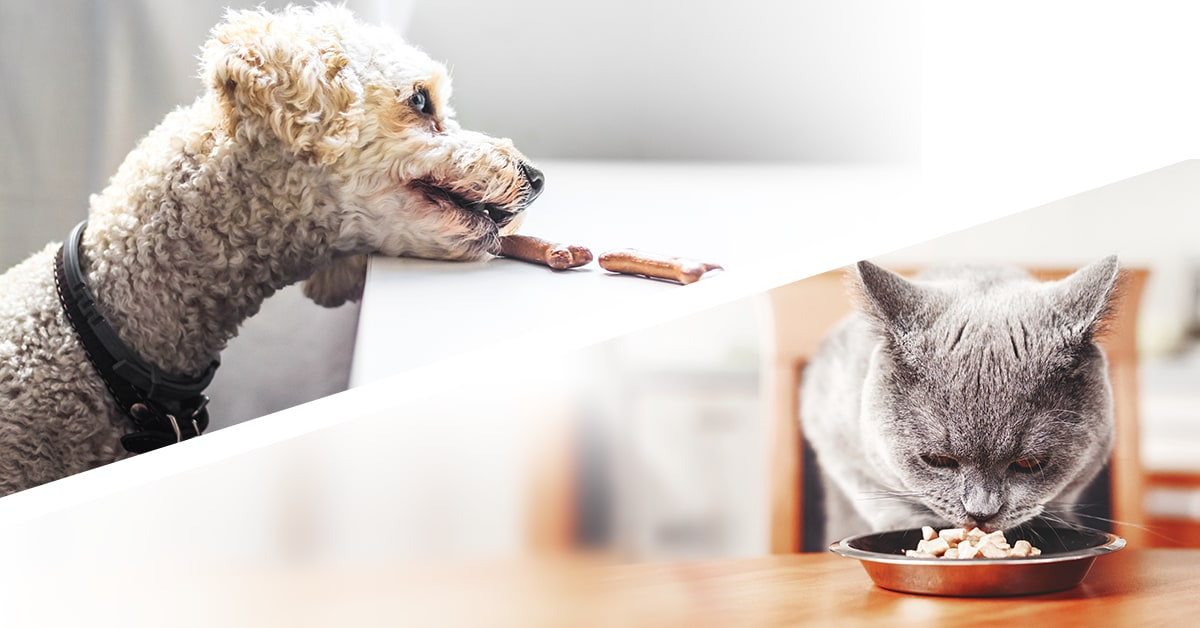 We krijgen veel vragen van zowel kersverse als doorgewinterde dierenouders die ervoor willen zorgen dat ze hun (nieuwe) metgezel goed voeden.


Laten we beginnen met het beantwoorden van enkele van de meest gestelde vragen.


Kunnen ze gedijen op een veganistisch dieet?


Het korte antwoord is nee omdat ze dierlijke eiwitten nodig hebben. Honden kunnen kleine hoeveelheden koolhydraten verdragen omdat ze zich de afgelopen eeuwen hebben aangepast aan het leven met mensen en daardoor gewend zijn geraakt aan een gevarieerder dieet. Katten hebben zich nooit aan ons aangepast en zijn strikte carnivoren gebleven. Tenzij je supplementen wilt gebruiken, raden we een dieet op basis van groenten af omdat plantaardige eiwitten moeilijker te verteren zijn. Daarbij vinden wij het belangrijk om de aard en het instinct van honden en katten zoveel mogelijk te respecteren.


Is een BARF-dieet beter voor hen?


Niet noodzakelijk. Onze metgezellen worden zeer zeker blij van een maaltijd met verse ingrediënten die door ons zelf wordt bereid. Het is echter een hele taak om recepten op te stellen die de juiste voedingsstoffen, vitamines en mineralen bevatten. Je moet zorgen voor de juiste balans en de juiste hoeveelheid ingrediënten gebruiken in elke portie voedsel. Het is belangrijk om voedingstekorten of excessen te voorkomen. We raden aan om hierbij op je dierenarts te vertrouwen en voortdurend advies in te winnen.

Is het ooit oké om ze restjes te geven?


Nee, geef ze nooit voedselresten of botten. Onze eigen voeding is te gekruid en moeilijk te verteren, botten kunnen versplinteren en interne schade veroorzaken. Nogmaals, als je kiest voor een BARF-dieet, overleg het dan eerst met een dierenarts. Wil je ze iets lekkers geven? Kies een snack die voor hen is ontworpen, zoals ons HFC-snackassortiment voor katten of honden of ons Holistic snackassortiment voor katten en honden.


Is 'onderhoudsvoedsel' anders dan 'diergeneeskundig voedsel'?


Ja, onderhoudsvoedsel is anders dan diergeneeskundig dieetvoer. De eerste helpt om de fysiologische gezondheid van je metgezel te behouden, de tweede wordt meestal aanbevolen door een dierenarts om een ​​specifiek gezondheidsprobleem aan te pakken en op te lossen. Het is erg belangrijk om de juiste voeding te geven om de gezondheid van onze metgezellen te behouden.


Almo Nature "Complete" recepten zijn qua voedingswaarde uitgebalanceerd, gemaakt met hoogwaardige, HFC-ingrediënten en vers vlees. Je vindt ze in veel verschillende recepten, zodat je ze elke dag een nieuwe smaak kunt bieden. Het zijn allemaal onderhoudsproducten om jouw metgezel gezond en fit te houden.


Als je dit artikel leuk vond, blijf ons dan volgen voor meer nuttig en praktisch advies ...