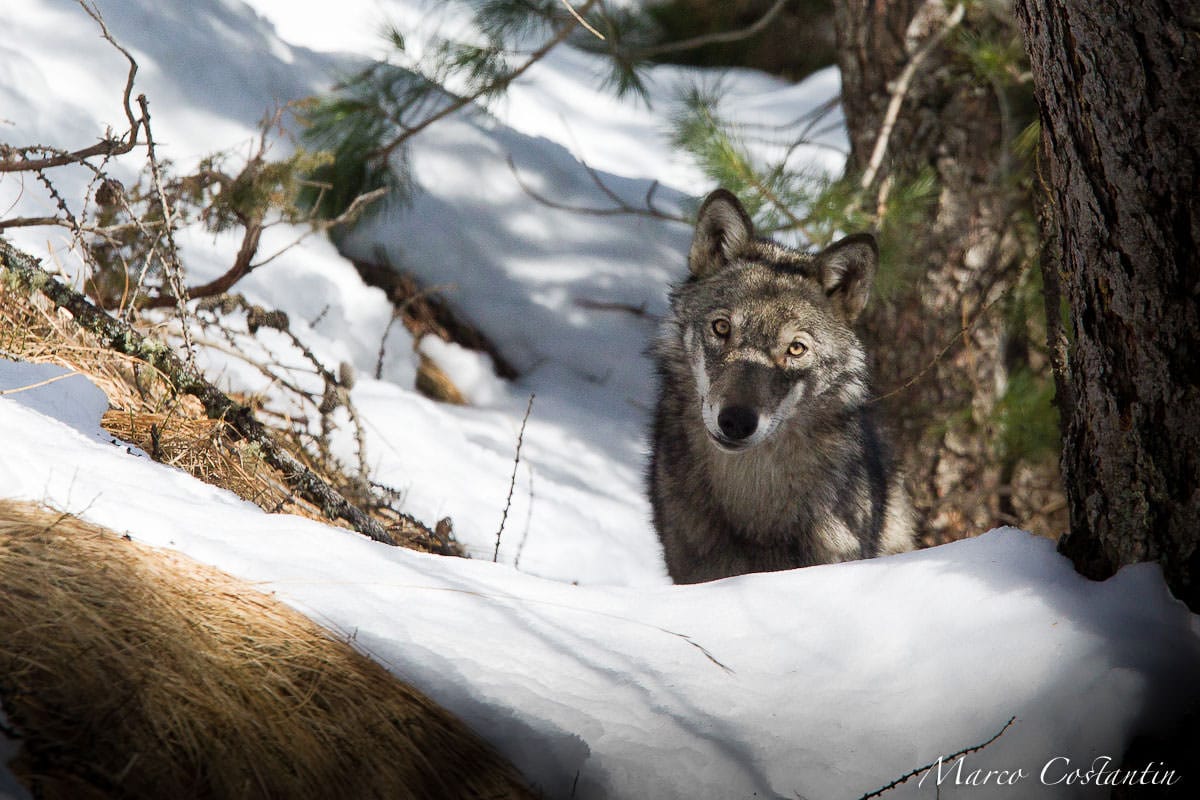 'Alla levande varelser har rätt till sitt livsrum. Det är alla människors plikt att respektera det': det är budskapet i The Promise, en kortfilm regisserad av Gabriele Salvatores och producerad av Almo Nature, som tror på skyddandet av vargen och har gjort det till temat i sitt huvudsakliga kommunikationsprojekt under 2015.
Ett annat projekt som också återspeglar detta engagemang är "Konsten att vara Varg", en föreställning som fångar bilder av vargars fantastiska liv, på diskret och icke inkräktande avstånd genom att använda en videokamera med teleobjektiv. Den mänskliga rösten är en bakgrund, ett avlägset ackompanjemang till det naturliga livet och relationen mellan rovdjur och byte.
Projektet: en dokumentär-konsert för att lära om vargen
Projektet, 'L'Arte nell'essere Lupo' ("Konsten att vara Varg") föddes 2010 med ett ambitiöst syfte: att hitta en vargkull för att skapa en dokumentär konsert. Denna svåra uppgift förverkligades i Val Chisone, i Italien där videoskaparen Stefano Polliotto lyckades fånga värdefullt bildmaterial av en vargflock utan att påverka dess dagliga rutin, medan musikern och sopranen Ethel Onnis förhöjer den kulturella och känslomässiga aspekten av bildmaterialet genom ett musikaliskt live-uppträdande. Kombinationen av videomaterial och live-musik blev inte bara en turné utan också ett initiativ för att skapa uppmärksamhet kring vargen och dess naturliga livsmiljö.
"Konsten att vara Varg" vill i synnerhet hitta det vackra rovdjurets livsmiljö i den italienska inramningen i Cozie alperna i Piedmont, där djuret även tvingas tävla mot det mänskliga fenomenet tjuvjakt i en vacker bergsmiljö. Med vargens överlevnad som hjärtat i budskapet skapades Konsten att vara Varg inte enbart som en imponerade föreställning som skulle beröra tittare känsliga för denna fråga utan även som ett kulturellt initiativ. Projektets samarbete med den lokala organisationen Natura Verde Acqua hjälper till att skapa uppmärksamhet kring ekosystemet och djurlivet i området där vargen har en väldigt viktig roll; den har också för avsikt att framöver skapa ett specialistcenter för att dela information om vargen.
Stefano Polliotto och Ethel Onnis, skaparna av "Konsten att vara Varg"
Det unika hos "Konsten att vara Varg" projektet grundar sig förmodligen på passionen och den professionella skickligheten hos dess skapare Stefano Polliotto och Ethel Onnis. Sedan 1998 har Stefano ägnat sitt arbete som videoskapare åt vargen och dokumenterat djurets spontana återvändande till de västra Alperna i Italien. 2005 gjorde musikern och sopranen Ethel Onnis honom sällskap när han filmade en stor flock vargar i Orsiera Rocciavrè parken i Val Chisone. Fjorton vargar, inklusive vuxna, yngre vuxna och valpar, var huvudkaraktärerna under tre månaders filmande 2010, vilket resulterade i skapandet av "Konsten att vara Varg". Här blandas bildmaterialet av flocken, som senare tyvärr också föll offer för tjuvjakt, med live-musik i form av keltiska toner spelade av ensemblen The Book of Kells. Och denna första föreställning var bara början: sommaren 2014 var det dags för alfa-vargarna Fenrir och Gretel och deras valpar att vara stjärnor i nytt, spännande bildmaterial. Även denna gång ackompanjerat av musik framfört av Onnis och The Book of Kells, som också blev en CD med titeln 'Vargars historia'.
Foto-credit: Marco Costantin