Alternative, Green Label and Classic Raw Pack: the differences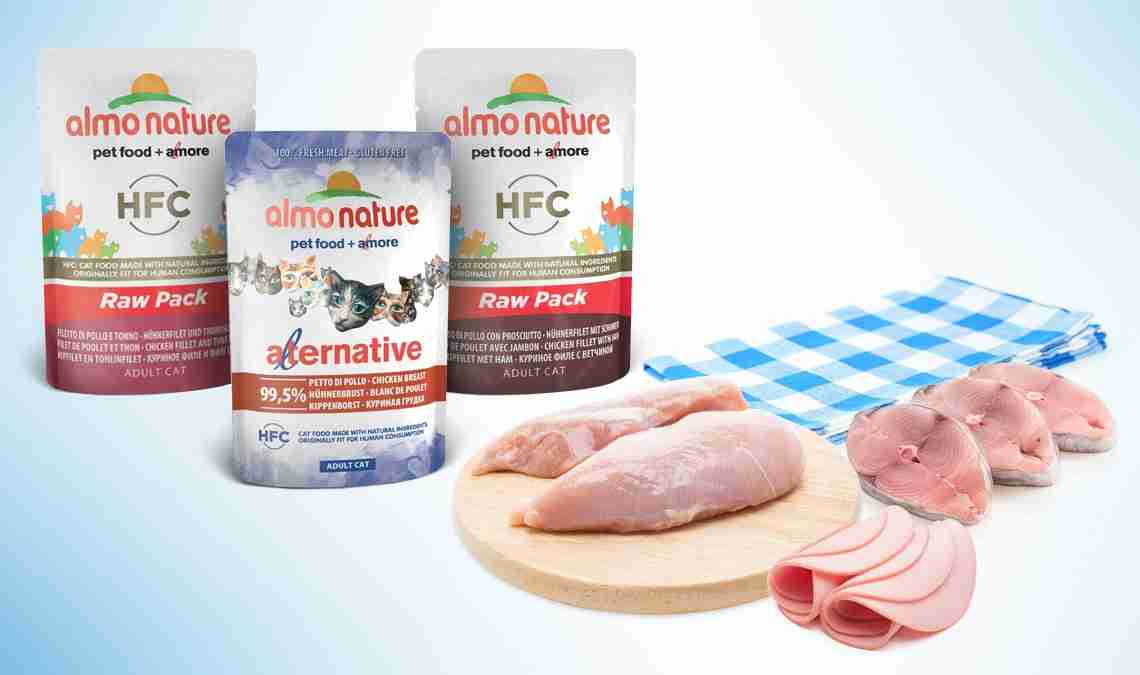 Alternative, Green Label and Classic Raw Pack are the three lines of Almo Nature wet food for cats prepared with a unique "Raw Pack" cooking method.Let's look at some of the features and differences so you can more knowledgeably choose which products suit your needs.
Characteristics of the products
The three product lines are packaged in convenient 55g pouches so offer a product that's always fresh for your cat, preventing waste. One feature they all have in common is the quality of the 100% HFC ingredients, i.e. they were originally fit for human consumption. Furthermore, the presence of only the finest cuts of meat or fish in every single pouch ensures a high nutritional profile intake. Alternative, Green Label and Classic Raw Pack are prepared with a Raw Pack cooking method: HFC ingredients are inserted in to the pouch raw, the pouch is then sealed and cooked in a water bath (known as the bain-marie method). This process preserves all the nutrients naturally present in the meat and fish used in the recipe, maintaining an intense natural flavour.
What are the differences between the product lines?
Alternative represents Almo Nature's finest range, each pack contains up to 99.5% fresh HFC meat or fish, the highest possible quality and digestibility. There are ten Alternative recipes to choose from with different flavours conceived to satisfy every cat's palate. Green Label and Classic Raw Pack - with 75% meat or fish and 1% rice - are highly digestible, gluten-free recipes, ideal for keeping your cat healthy day after day. As with all ingredients used in these Almo Nature recipes, even the rice is HFC quality.Like all Almo Nature products, Alternative, Green Label and Classic Raw Pack are totally free from additives, preservatives, colourings and flavourings.
Raw Pack recipes in your cat's daily diet
Alternative, Green Label and Classic Raw Pack recipes with their intense, natural taste, are the ideal choice for our cat's daily nutrition. In addition, "raw pack" recipes also help to ensure a cat's hydration thanks to their natural broth.The "raw pack" cooking method is very similar to "cooking in foil" where the meat and fish are separated from the natural juices that remain in the bag… this is why sometimes we need a "trick" to serve these recipes!To respect the cat's carnivorous nature and its lack of natural instinct to drink, Almo Nature recommends an alternative feeding method consisting of both wet food (like raw pack recipes) and dry food (like Alternative – the ideal choice to ensure they are eating a 100% HFC diet!).
Have you already tried our Raw Pack recipes? Let us know what your cat thinks. Join us on Facebook and tell us about your experience. See you there!