Green Label, Rouge Label and Classic become HFC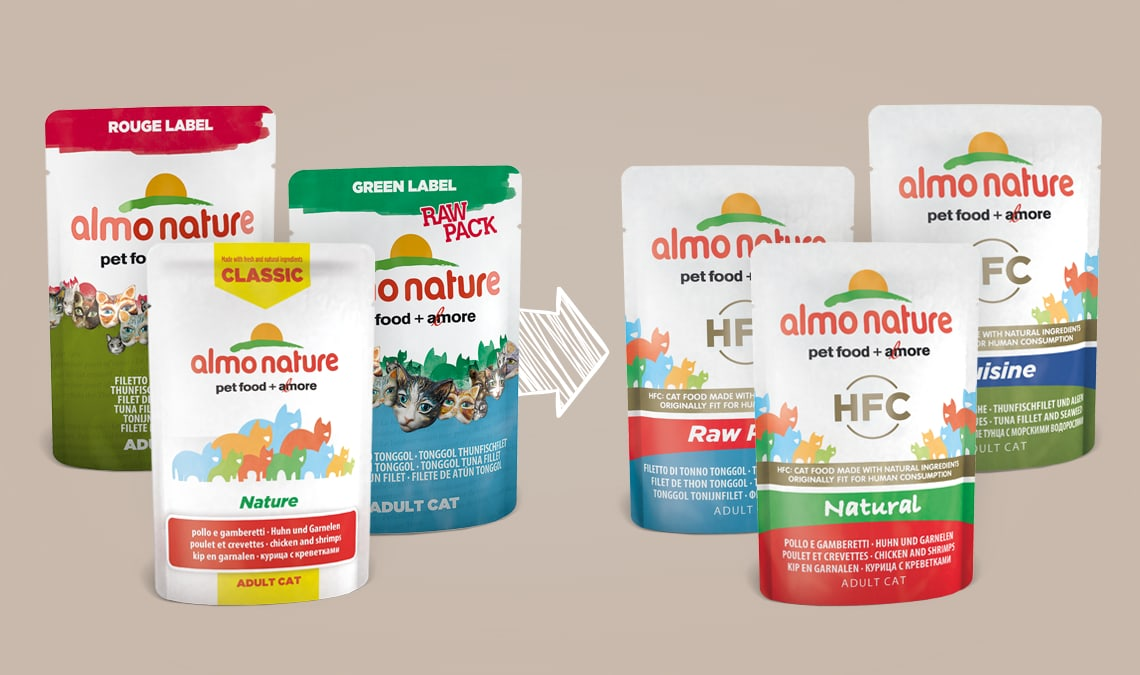 Green Label, Rouge Label and Classic single serve pouches from Almo Nature change their look and become HFC. HFC is the label that distinguishes Almo Nature products prepared with HFC ingredients originally fit for human consumption*.To make it clear which products have this characteristic, we decided to group these recipes under the HFC label. In this way, a quick glance is enough to understand the quality of the product you are looking at.
HFC: more than 30 recipes in single serve pouches
Single serve 55g pouches allow us to offer our cat a portion of wet food while avoiding unnecessary waste.All recipes are free of chemical additives, preservatives and artificial colours.To prepare our recipes, we use only the ingredients we list on the label and nothing else.None of the current recipes have changed: we know how is important to give our cats what they love the most… always.
HFC line composition
The HFC line comprises a variety of sizes and recipes, but what they all have in common is the quality of the ingredients we select to prepare them.In the HFC line you will find: - HFC Natural 70g - the most popular and long-established Almo Nature recipe - HFC Natural 140g & 280g - ideal for hungry cats or multiple cat households - HFC Natural 55g - the smart alternative to a tin: a single-serve pouch - HFC Raw Pack 55g - 75% fresh meat or fish, bain-marie cooked inside the pouch - HFC Cuisine 55g / 70g / 140g - select ingredients to satisfy even the most discerning palates - HFC Jelly 55g / 70g /140g / 280g - recipes in jelly for light, anti-hairball aid - HFC Light 55g / 70g - ideal for weight control- HFC Kitten 55g / 70g / 140g - complete food to satisfy kittens' specific needs.
HFC recipes in a cat's daily diet
HFC wet recipes are the ideal choice to provide our cats with natural daily nutrition and hydration.To respect their nature as strict carnivores that don't have an instinct to drink, Almo Nature suggests a diet alternating between wet food – such as HFC recipes – and dry food (such as Alternative dry) which together are the ideal choice to offer a 100% HFC diet!).
* According to Regulation (EC) No 1069/2009 Article 10, paragraph a)