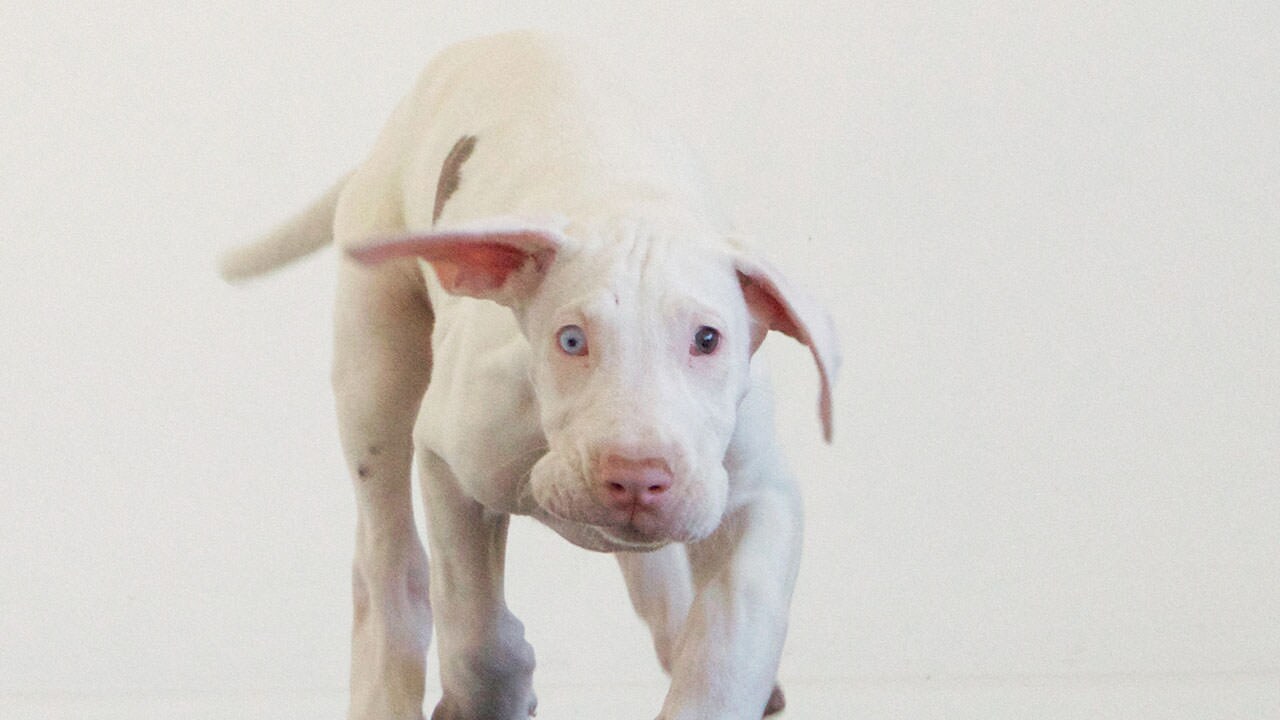 Ibland kan vi berätta historier om övergivna djur som har lyckliga slut. Som de om Marnie the Dog eller blandraspudeln Dave. Efter förnedrande liv under tuffa omständigheter har ingen av dem problem med att överleva längre. Annorlunda är det med fyrbenta som träffar en människa som kan göra skillnad enbart på grund av att deras öde redan tycks förutbestämt och ett lyckligt slut är långt ifrån garanterat.
Grand danoisen Pegasus och hennes osäkra framtid
Grand danois-tiken Pegasus är albino. Något som gör att hon inte förväntas leva så länge. Hon föddes med en genetisk sjukdom och tillståndet utmärks av den vita pälsen som saknar pigmentering. Redan vid fyra månaders ålder började hennes syn och hörsel påverkas av sjukdomen. Född i en kull med syskon som även de hade olika hälsoproblem överlevde hon mot alla odds, men Pegasus hade inte många intresserade ägare som stod på kö. Trots det hade hon turen att träffa en person som skulle betyda mycket för henne och hon för honom.
Dave Meinert och The Pegasus Project
Pegasus adoption blev mer äventyrlig än väntat. Den lyckliga nya ägaren heter Dave Meinert, en sydafrikansk filmare som beslutade sig för att glädja sig åt alla stunder med hunden så länge det var möjligt. För att föreviga den mer än vanligt av livet kantstötta fyrbenta vännen skapade regissören The Pegasus Project, en time-lapse video som dokumenterar hunden när den motionerar på ett löpband. Meinert själv har en gästroll i den populära videon med Pegasus. I slutet av filmen skriver han: 'Jag vet inte hur mycket längre hon kommer leva. Men just nu har vi det riktigt bra'. Och senaste nyheterna är, om möjligt, ännu bättre. Pegasus har flyttat till ett hus med trädgård som hon strövar fritt i. Där bor hon med en ny ägare och en hundkompis. På grund av sin hektiska livsstil kunde inte Dave anpassa sitt liv efter hundens behov, men han har inte gett upp den helt utan tillbringar tid med henne så ofta han kan i perioder. Meinert skriver om beslutet på sin Vimeo-kanal: 'Om hunden är lyckligare, ska du då försaka din lycka? Ja, det tycker jag. Om en hund är osunt avlad, ska den då avlivas för att förhindra mer osund avel? Nej, det tycker jag inte. Vem ska bestämma? I slutänden gör vi vårt bästa och våra husdjur ger oss fantastiska lärdomar'.